Image annotation tool with image masks
I wrote an image annotation tool for images with pixel masks that has been used for the creation of the IG02 dataset published on site of Marcin Marszałek. This tool has been written in Qt, it therefore is portable to different platforms.
Features:
Pixel-wise object annotation
Zoom in/out
Different brush sizes (circle shape)
Line drawing
Flood filling
Different color types: background, object, occluded object
Different drawing modes: over all color types or only over a specific color type (i.e., masked)
A mask file (in .png format) is created for each object separately
Download: as Windows binaries or as source code such that you may build it yourself on your platform (the README file explains how to do that and gives also some information about the internal format).
In the Image Annotation Tool, you have a menu help->shortcuts that tells you how to use the tool. In case I missed something or you have a question, drop me a line.
Here you see some screenshots from Linux and Windows: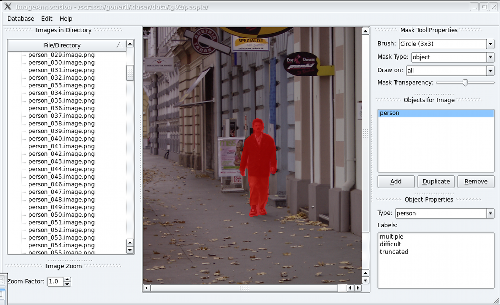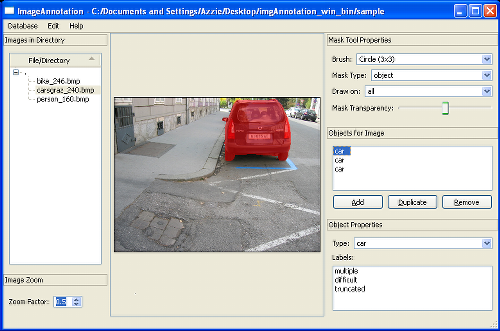 ---
by Alexander Kläser 2010